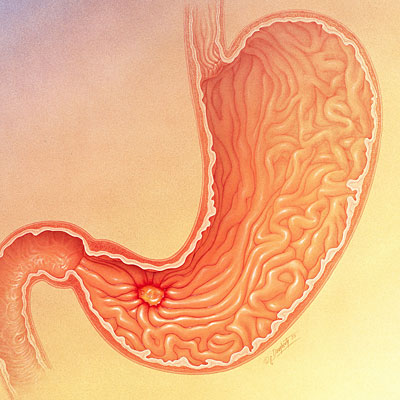 Intro to Acids and Bases:
Our stomachs have one of the lowest pHs on earth. Ranging about a pH of 1, the high concentrations of HCl in our stomach helps us digest food and fight disease. Sometimes, our stomachs produce too much acid, leading to heartburn and sometimes ulcers. The only reason our stomach acid doesn't eat a hole through our stomachs is because of our protective mucosal lining of the gut. If that gets worn down, the acid eats a hole in our guts, causing an ulcer.
Alka seltzer neutralizes our stomach acid.
Alka seltzer is made o:
sodium bicarbonate
,
potassium bicarbonate
, and
anhydrous
citric acid
.
http://en.wikipedia.org/wiki/Alka-Seltzer
.
Note--most people who suffer from ulcers are infected with a bacteria,
H. pylori
, which is very difficult to treat.